Technology to be developed includes ground-to-air communications that are lighter and require less power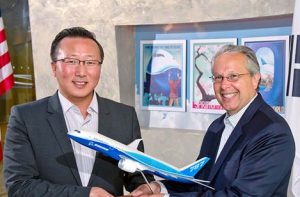 Boeing and Samsung Electronics have announced that they will explore working together to research and develop technologies that improve in-flight entertainment and communications, as well as enhance factory productivity.
A signed memorandum of understanding will reportedly help broaden and deepen the Korean industrial ties to Boeing aircraft production.
Boeing and Samsung Electronics will initially start the development of advanced display and wireless networking technologies that offer more capabilities for passenger entertainment and ground-to-air communications, but are lighter and require less power. Additionally, the companies will explore opportunities to collaborate on projects involving productivity and enterprise mobility using Samsung's current and future devices and solutions in hand-held mobile devices and other IT products.
Boeing Research & Technology, the company's central research and technology organisation, will oversee the collaborative relationship for Boeing. The organisation is focused on developing future aerospace solutions and improving the cycle time, cost, quality and performance of current aerospace systems.