MTN Satellite Communications and Wireless Maritime Services Partner launch 'Connect at Sea' to enable passengers and crew to stay connected via smartphones and tabletsrn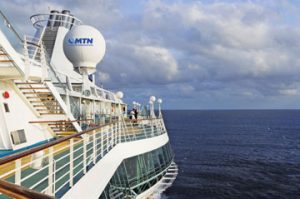 MTN Satellite Communications (MTN), a global provider of maritime communications, connectivity and content services to remote locations around the world, and Wireless Maritime Services (WMS), a provider of cellular service to the cruise line and ferry industry, have announced the availability of the Connect at Sea voice application, reportedly enabling passengers and crew to make cost-effective phone calls and send text messages from their personal Apple iOS or Android devices while at sea.
Connect at Sea allows, the company claims, passengers and crew to make and receive calls from loved ones and friends or work from anywhere around the world. In addition, intra-ship calling enables passengers to connect with their friends and family on-board to make plans or keep track of one another. Crew can leverage this feature as well to call other vessels.
MTN and WMS have jointly developed the solution that not only offers a clear connection, the company claims, but a service that works with a vessel's Wi-Fi infrastructure and data/voice prioritisation strategy for the maritime industry.
Unlike other voice applications, Connect at Sea is reportedly built for the maritime industry and delivers high voice quality while keeping bandwidth usage low. In addition, customers do not have to purchase an internet plan to use the application and can download it from iTunes or the Android store. Passengers can now reportedly keep in touch with friends and loved ones on their ship via cost-effective calling or texting as well as calling shore side. In addition, the application, the company claims, adds to any crew welfare initiative by offering a cost-effective way for families to communicate with their loved ones who are at sea for months at a time.
"The demands of today's cruisers are increasing and the industry is faced with the opportunity of bringing a solution similar to a land-based calling experience to the middle of the ocean for both passengers and crew," said Brent Horwitz, senior vice president and general manager of cruise and ferry services at MTN Satellite Communications. "Passengers expect to be able to make calls from anywhere in the world without issue and crew require a service that allows them to stay connected with family and friends while at sea. This joint solution between MTN and WMS fulfills this important communications requirement."
"Customers want a choice of cost-effective mobile communication solutions as well as the convenience of using their personal device, and the Connect at Sea application meets that demand," said Jim McKenna, vice president of customer support and product development at WMS. "After launching the industry's first 3G capabilities in the maritime environment in November 2010, the Connect at Sea application was the natural progression of our offerings to deliver capabilities that closely match passengers' calling experience on land. For those seeking more affordable pricing, Connect at Sea now provides it. For passengers who prefer simplicity, may not have a smartphone or would rather rely on the ease and convenience of their traditional way of calling, our standard cellular services remain firmly in place."