Solution limits bandwidth used during video call, audio chats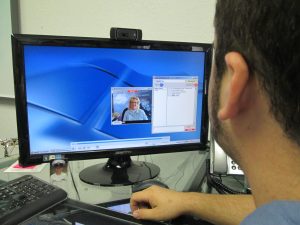 Globecomm Maritime is launching Access Chat Crew, part of the Access Chat line of products that provide seafarers live video, voice chat and instant messaging while limiting the bandwidth used.
Globecomm recognised the need for the development of a low bandwidth video calling solution specifically geared to meet the interests of seafarers. Following extensive sea trials with several major shipping companies, Globecomm worked in co-operation with Digigone, one of its technology partners, to create Access Chat Crew. By using encrypted compression techniques, Access Chat Crew limits the bandwidth used during video and audio chats to 90 kbps, while voice only chats use just 12 kbps.
Malcolm McMaster, President of Globecomm Maritime, says:  "The crew market has been asking for live video chat capability for years, but very few ships have access to the 300 kbps to 1 Mbps needed to run this kind of application. Prior to Access Chat Crew, nothing existed in the maritime market which could give mariners high-quality live video and voice, while minimising bandwidth usage over satellite-based internet services.  Access Chat Crew solves this problem by making live video chat for crew both practical and affordable."
Access Chat Crew combines an intuitive user interface with a web portal which makes the product easy to order and distribute to family and friends onshore.
The portal enables crew members to order and renew licenses using the PayPal system. The software itself can be installed on personal devices such as laptops, tablets, smart phones and USB storage devices, giving the crew member the ability and flexibility to use the application anywhere that an internet connection is available.