Hermes demonstrated the capabilities of mobile satellite communication technologies for land, sea and air from Intellian and iDirect.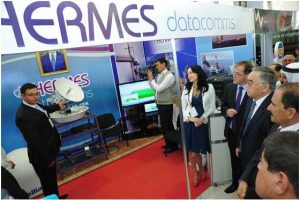 Hermes Datacomms  has won an award for New Technologies and Industry Development at the 6th International Exhibition "Turkmentel-2012" in Ashgabat, Turkmenistan, held in September 2012.
Hermes Datacomms joined more than 80 exhibitors including Turkmen communication and International companies to represent their achievements in developing business in the field of communications for the oil and gas industry.
Lyubov Arhangelskaya, branch manager of Hermes Datacomms Turkmenistan, says "We are thrilled to receive this award for New Technologies and Industry Development. This year, Hermes demonstrated the capabilities of mobile satellite communication technologies for land, sea and air from Intellian and iDirect. Hermes Datacomms activities are transparent and all opportunities are presented to the Government. We are proud to invest back into the country by employing local fully qualified staff who are supported by the UK Headquarters to ensure quality of service."