Operator gives communications infrastructure for humanitarian relief effortsrn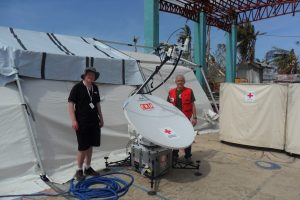 Intelsat has provided an update on its satellite capacity and other critical connectivities being used in a number of restoration initiatives in the Philippines following Typhoon Haiyan. Immediately after the disaster occurred, Intelsat began working with customers and partners to ensure that the necessary infrastructure and satellite capacity were in place to accelerate the restoration of vital communications for relief workers and businesses.
Intelsat repointed a Ku-band beam on the Intelsat 8 satellite to bring urgently needed capacity to the Philippines, in addition to providing capacity on other satellites already serving the region.  Intelsat is also providing an uplink via the IntelsatOne terrestrial network from the Kumsan, South Korea Teleport and a downlink in the Philippines. In total, three satellites are restoring connectivity and services to relief workers on the ground.
"With devastation of this magnitude, it is critical that humanitarian workers have the connectivity necessary to support their relief efforts," says Stephen Spengler, President and CCO of Intelsat. "Given the breadth and size of our satellite fleet, we were able to quickly mobilise and redirect capacity, demonstrating the ability of satellite-based solutions to provide rapid response communications. We are working hard to help our customers provide much needed aid and services to those communities deeply impacted by Typhoon Haiyan."
Intelsat has a long history of contributing ongoing satellite connectivity to social and humanitarian causes around the world, including the Mindset Network in South Africa, the Children's National Medical Center Telehealth Program in Morocco and Medical Missions for Children in Latin America and the Caribbean. Responding to natural disasters, Intelsat provided satellite connectivity for relief and rebuilding efforts in the wake of the earthquake in Haiti in 2010.