World's first high-speed global broadband service takes off from Kazakhstan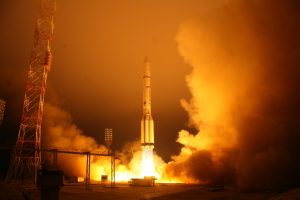 Inmarsat has confirmed the successful launch of the first of three satellites, designated Inmarsat-5 F1, from the Baikonur Cosmodrome in Kazakhstan. Named Global Xpress (GX), the fleet of spacecraft is the result of a USD 1.6 billion investment by Inmarsat, which will create the world's first high-speed, globally available mobile broadband service.
When all three GX satellites have been launched by the end of 2014, Inmarsat will offer fast broadband connectivity to the remotest places on Earth, from the middle of an ocean to the heart of the Amazon, and for aircraft flying at 40,000ft.
The company's existing fleet of 10 satellites is used by governments, airlines, ship owners, energy companies, news broadcasters and humanitarian organisations for data and voice services.
GX will deliver mobile broadband services 100 times faster than the Inmarsat-4 fleet.
The Inmarsat-5 satellites will fly in a geo-synchronous orbit at 7,000 miles per hour some 22,000 miles above the Earth's surface. External temperatures for the spacecraft in orbit exceed 200F, while when in shadow, the satellite's surface can reach -200F.