Satellite adaptor for iPhone provides access to popular apps, email, instant messagingrn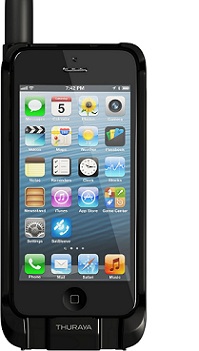 Thuraya Telecommunications Company, an MSS operator, has launched a new edition of the Thuraya SatSleeve, the world's first and only satellite adaptor for the iPhone.
The new release allows users to make phone calls and send SMS messages via Thuraya's satellite network, as well as enables them access to emails, popular social media and instant messaging apps such as Facebook, LinkedIn, Twitter and WhatsApp. Thuraya SatSleeve users can now post news updates, chat via messaging apps with their contacts as well as send and receive email from the most remote locations in satellite mode. The device can be used across Thuraya's satellite network with coverage in over 140 countries.
Samer Halawi, CEO of Thuraya, says: "The new release of the SatSleeve, which now includes data, underscores our commitment towards delivering new and innovative mobile satellite products. Users today are increasingly relying on their smartphones to stay connected and we strongly believe in listening to them and to their requirements as we develop new mobile satellite products that align with their needs."
Thuraya SatSleeve enables ubiquitous coverage even in the most remote environments that are not served or under-served by terrestrial networks. The device also serves as a mobile communications device, in addition to being a security backup for users that are operating in remote locations and in areas where natural or man-made disasters can render terrestrial communications unavailable. Customers include corporate users, enterprises from all industries, explorers, mountaineers and other outdoor enthusiasts. The SatSleeve can be used across the Thuraya network either with a Thuraya SIM card or with a standard GSM SIM card available from 356 worldwide GSM operators across more than 160 countries.
The Thuraya SatSleeve is available from all Thuraya Service Partners from September 10.