Thomas Wrede, VP reception systems, SES, talks about a quantum leap in the way linear satellite content will be available.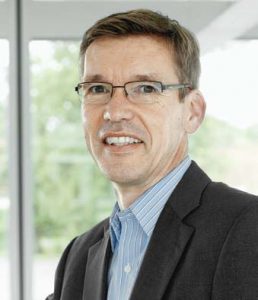 When Thomas Wrede, VP reception systems, SES, talks about a quantum leap in the way linear satellite content will be available, he also gives you a compelling visual of a viewer enjoying a live soccer match on the terrace of his house, on his iPad, while the rest of the family watches a movie in the living room.
The concept of a connected world is no longer novel, but to be able to be connected  to linear satellite TV and not just internet content, is a game-changer for the average TV viewer. And for the viewers in Germany, it would no longer be a hypothetical concept as SAT>IP servers are being shipped from factories in the Far East as I write this.
Speaking to SatellitePro ME, Wrede underscores quality, the raison d'etre of linear satellite TV and why Sat>IP will strike a chord with the viewers.
"In most markets, due to lower compression, as compared to terrestrial solutions, we enjoy better picture resolution with satellite TV. SAT>IP does not change the resolution of the original signal. More consumers want to watch high quality content on tablet devices and expect better performance and screen resolution. The gadgets' industry, on its part, is making these devices more and more affordable.
"Currently, if consumers take their iPad into the kitchen, they can get linear content from the internet, but they don't get satellite TV. With our solution, viewers can choose between Netflix, for instance, and the regular bouquet of satellite channels."
The solution, according to Wrede, has also garnered support from OTT providers, as the latter attempts to serve an insatiable audience.
Wrede explains, "If you want to transmit over the internet to tens of thousands of subscribers, it will cost you a lot of money. We have had discussions with customers who say OTT is becoming expensive. For every stream, mostly unicast, the operator has to pay a lot of money for internet delivery. An application that allows some of the content
to be transmitted via satellite and is made available on other devices, makes for a strong competitive proposition for OTT providers"
In the German market, the retail price for the SAT>IP server that would allow the viewer to watch four independent programmes on four IP-connected devices (iPhones, iPads, Androids or Notebooks) is between Euros 200 and 250.
"We don't ask for any royalty," reiterates Wrede. "We want to take satellite reception to the next level."
Industry partners on the ground decided on Germany as the launch market, says Wrede, because of the sales potential  of targeting a lucrative market of more than 17 million satellite households and the high number of free-to-air channels that are free from encryption – allowing for the launch of the SAT>IP solution with no extra investment on the part of the broadcaster.
Expressing readiness to enter any market through industry partners, Wrede includes markets in the Middle East.
"We have discussed with a lot of people in the Middle East and Asia and I believe that this solution would also be ideal for a community-based installation. If you build a new apartment or condo, it makes sense to deploy technology such as SAT>IP. It ultimately depends on the purchasing power in the respective markets. Having said that, if houses have more than one flat screen – the cost of installing SAT>IP would be much lower than that of one flat screen."
The industry as a whole will benefit, says Wrede.
"SAT>IP will benefit operators and equipment manufacturers. First products to soon reach the market will be SAT>IP multiswitches (servers) and set-top boxes that accept satellite content also via their Ethernet interface. Moreover, the satellite industry will benefit from the evolution of Ethernet based in-home networking technologies, i.e. higher speed wireless, powerline, etc. The big benefit will be that linear satellite signals can be interfaced easily into IP in-home networking topologies."
While Wrede's team at SES has been coordinating with the industry to make the SAT>IP communications protocol an industry standard, one of the challenges, according to Wrede is to "agree with operators and industry on a suitable DRM solution for transporting securely encrypted content."
All in all, Wrede believes the satellite industry will benefit, as will linear TV, as all players jostle for pole position in the multiscreen environment.