The UAE's space centre, MBRSC, is pioneering missions in Earth observation, and will soon be sending a probe to Mars. With ambitious projects and a stellar team, the space centre is well poised to successfully propel the Middle East into the space race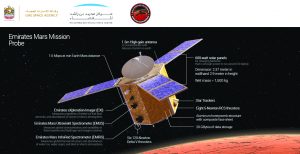 The planet Mars has always been a major topic of interest for the space community. Countless missions have been launched, by different countries, to explore the atmosphere, conduct experiments and search for signs of life on the planet.
The Mohammed bin Rashid Space Centre (MBRSC) is working on the recently announced UAE's Mission to Mars. This mission will be solely funded by the UAE Space Agency, and implemented by the space centre.
Salem Humaid Al Marri is the Assistant Director General for Scientific and Technical Affairs at MBRSC. He explains that the 'Mars Hope probe' is a pioneering project from the country's leadership, and that HH Sheikh Khalifa bin Zayed Al Nahyan and HH Sheikh Mohammed bin Rashid Al Maktoum have given the space centre a very strong direction, and a very concrete goal to achieve. The objective is to reach Mars by 2020.
"We were chosen to implement this project due to the extensive experience we have, the engineers we have and the previous experience in terms of projects. This is a big achievement for the centre and something that we will learn from. This will basically catapult us to the next level. We started working on this mission and we should be ready to launch by 2020," says Al Marri.
When quizzed about how MBRSC will achieve this challenging mission, Al Marri says: "What we are doing is more of the same of how we developed DubaiSat-1 and DubaiSat-2. The great thing is now we have around 100 engineers that have space experience, and can give back to such projects. That team is taking a lead, and the project manager Omran Sharaf was one of the first members who went to South Korea and did technology transfer on DubaiSat-1. He has 10-years' experience and four missions under his belt. The team under him also have extensive experience in our projects, and this strong team is taking a very strong lead in developing this mission, while focusing on all aspects of the mission."
The space centre has also partnered with academic partners in the United States, who can assist the core team on aspects that are unknown to them about Mars. MBRSC is looking at striking a strategic partnerships that its team can learn from as well as making sure that its own knowledge is very well used in this project.
"Our team is going to be participating in the development of this mission and a lot of activity is going to be taking place over here in the UAE in our cleanrooms. We definitely are on schedule and we believe we can achieve this launch by 2020," says Al Marri.
Furthermore, the road ahead is not without hurdles. Besides the lack of a local space community, Mars poses challenges of its own.
"With Mars it's a different sort of playing field. It is very far away, around 225 million kms from Earth, and it takes nearly nine months to get there. The guidance and navigation of how to get to Mars and stay on the right path is very critical to any Mars mission. If you look at previous missions, it is this aspect that is the make or break of the mission. Any slight movement on your path towards Mars can put you on a different trajectory. Getting injected into the orbit of Mars is one of the key aspects of the mission.
"Furthermore, your technology has to be very smart and robust so it can survive in the harsh environment of space. It needs to work autonomously when needed. In fact just sending a signal from Earth to Mars takes about 20-minutes to get there and another 20-minutes to get back. By the time you've sent a signal and got the response, it's nearly an hour gone by. These challenges mean that you have to develop a very capable agile system that can work and perform on its own under these harsh environments. So getting there is one challenge, and when you reach there to be able to perform is the other challenge," explains Al Marri.
Once the probe reaches Mars, it will look at the overall atmosphere of the planet. The Hope probe will provide the first global atmospheric map of Mars. In the past, missions have been looking at certain sections of the atmosphere at certain times, but the UAE's mission will provide a global picture of the atmosphere. This is significantly playing into where science has led off, and MBRSC is aiming to build on existing information by discovering new things about Mars.
"Under the directives of HH Sheikh Mohammed bin Rashid Al Maktoum, this mission is a gift from the UAE to the world. At the end of the day, we want to develop our scientific capabilities by analysing this data over here in the UAE. This is a key strategic objective of this mission, however there are capabilities around the world that are developing in planetary sciences around the world, especially with Mars, and we want to make sure this data gets to them and we are able to jointly work with them on analysing this data. This data will be given free of charge and will be given to the people who need it the most," says Al Marri.
MBRSC's mission is to nationalise the development of space capabilities to UAE nationals. The wider goal is to develop its own projects and satellites through its employees. Other objectives stem from launching missions that the government can benefit from in terms of applications, and from furthering the development of the people of the UAE, so they can continue to develop their skills in the space sector.
Al Marri says: "In the last couple of years we've shifted from a single project entity to a multi-project entity. In 2009, we launched DubaiSat-1, followed by DubaiSat-2 in 2013. We've been working on KhalifaSat, which is the culmination of this work, and that is nationalising the development of KhalifaSat in the UAE. We started in 2012, and we are planning to launch this satellite in Q1 2018.
"KhalifaSat is very special for us, because this is the first satellite which will be developed and built in the UAE. It also holds the name of our President. In terms of what it will achieve, it's an earth observation satellite and will continue the development of what we have done with DubaiSat-1 and DubaiSat-2. It's very important to have continuity," says Al Marri.
The satellites now have customers who use its imagery and depend on them. Marri says that as MBRSC improves on its projects, it is always looking at providing better data, and more clear data. KhalifaSat will be doing exactly that, and will double the capabilities and capacity of DubaiSat-2.
However, not everything is smooth sailing for MBRSC, and there are a number of challenges to be faced during implementation of its projects.
"The first challenge is tackling the aspect of developing things locally. Since it's the first time we are doing this, we don't have a community of sub-contractors or corporations that can assist in developing things with us. We don't develop everything. There are components that we need to procure and outsource from abroad.
"If you have an industry around you, then that can make things easier. However, these are challenges that we are working very strongly to overcome, and there's a big emphasis on us over the next 15-years to build a community around us that will ease the nationalisation of such technologies," continues Al Marri.
Another experiment that the space centre ran with Airbus Corporation was to try a testbed of a completely solar aircraft that can fly for 24-hours around the skies. The High Altitude Pseudo Satellite (HAPS) flies at a very high altitude, up to 65,600 feet above air traffic, making it a robust system to handle various applications. The payloads on the system can be changed on the ground to fit with different applications. Some of these include thermal imaging, full-HD video imaging, creating temporary communication networks and strengthening navigation systems. Al Marri says that the centre looked at this as a concept and wanted to do a flight trial in the UAE. It is now looking at other concepts of how to go forward in the future, either with Airbus or with other companies.
There are other smaller projects that MBRSC has worked on, like the Nayif Cubesat project which is more of an educational and outreach project. The objective of Nayif was creating a small communications satellite, which can send SMS messages when it travels over the region. A bit like an amateur radio satellite.
"Cubesat is a strategic alliance between us and the American University of Sharjah. We got together a few students and started to work with them on the cubesat project. What we wanted to achieve from this was to get students involved in these projects to bridge the gap between what they're learning in engineering and doing something practical. The second objective is when these students work with space technology and get excited about satellites, they can come and work for entities such as MBRSC, UAE Space Agency, Thuraya or Yahsat, anywhere that they want to go and they can develop their skills there.
"These were our two main objectives and we've got seven young engineers who have graduated now and are finishing this project. They are going to be joining MBRSC and other entities, and we are now looking at starting a sustainable programme with multiple universities in which we start to design new experiments on these missions," explains Al Marri.
The space centre also has now developed its own cleanroom facilities.
"We've just completed the first phase of our cleanroom, and now we're starting the second phase which is the 'High Bay', and this is where these projects will be built and developed," concludes Al Marri.