Yazmi has called for governments across Asia, Africa and the Middle East to use its satellite-based end-to-end content delivery system to improve performance outcomes for students and teachers. Shefali Srivastava, VP Finance at Yazmi, provides an insight into the business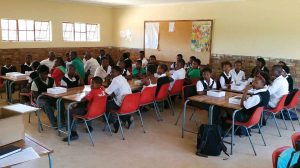 THE INFRASTRUCTURE: ISSUES WITH HARDWARE, INTERNET AND SECURITY
Rural, remote and low-income regions across Asia, Africa and the Middle East tend to have weak computing and internet infrastructure at school and at home. Governments are willing to invest in computer-aided learning tools to improve their educational systems, but the cost of desktop or laptop PCs limits the number of devices available for use.
Data service also adds to the total cost burden, as laying fixed broadband to schools in these areas is prohibitively expensive and cellular data fees can quickly add up to become a bigger cost than the devices themselves. Internet transmission over a 3G or less cellular network can be long and frustrating, and can also lead children to unhealthy and unproductive distractions and temptations.
THE YAZMI SOLUTION
Yazmi's solution uses Newtec's multicast technology to deliver content via satellite. The AfriStar and AsiaStar data multicasting satellites and the world's first truly satellite-enabled tablet, Odyssey. Yazmi sells tablets, small classroom servers, solar chargers and other accessories to governments for distribution to students and teachers. Access to a channel is then produced via satellite for the government, which can then transmit approved education content to all of its tablet users at zero cost.
The satellite service is capable of transmitting live group lectures from a remote teacher with accompanying slides or whiteboard work, along with digital textbooks and notebooks, educational apps, preparatory materials and other files. Each channel can transmit the equivalent of thousands of books and tablet-scale videos each month to all users. The Yazmi service can ensure universal access to learning materials as well as skilled teachers for more demanding subjects, regardless of location or local infrastructure.
The Yazmi solution also provides governments with the opportunity to deliver training and support to teachers through the satellite network. Just-in-Time coaching can improve the confidence and performance of teachers, while simultaneously reducing travel cost and lost teaching days. Courses can be delivered in subjects where teachers may feel less prepared, such as maths, sciences or advanced English, which can increase the number of lesson plans delivered and heighten student outcomes. In multi-grade classrooms, teachers can use live or taped lectures to deliver lesson plans to one grade while simultaneously teaching a separate lesson plan to another grade, reducing stress on the teacher and improving student results and satisfaction.
SATELLITES ARE THE SOLUTION
Yazmi believes satellites are the perfect candidates for e-Learning connectivity. With a satellite system in place, the possibilities are endless: lectures can be live streamed from any location, teacher training courses can be offered, and having a connected device for multimedia consumption gives students and teachers access to high-quality educational content.
Yazmi owns two geostationary satellites, one positioned over Africa and one positioned over Asia. Government customers receive access to the closest Yazmi satellite and send files or live streams via the internet to uplink stations. The uplink station sends the data to the satellite, which broadcasts the data on a specified channel. The tablet has an integrated receiver module and is set up by the customer to only have access to that government's downloads, with other criteria such as grade, location and language of instruction. The satellite broadcasts data files, but only those receivers permitted to receive a specific file can receive it. Like radio or TV, a theoretically unlimited number of Yazmi tablets can receive data from the satellite and each tablet downloads at the maximum possible speed, regardless of the number of tablets simultaneously receiving the data.
Each Yazmi satellite has three beams centred on different regions, together covering a wide area. The AfriStar satellite covers all of Africa as well as southern Europe, central Asia, the Persian Gulf and as far as South Asia.
Each regional beam can provide up to 24 channels of 128kbps transmission speed, and Yazmi is working on a hardware upgrade to allow channels to be combined to achieve 256kbps data speed or higher. A customer purchasing at least 50,000 tablets would be allocated one 128kbps channel for its exclusive use. That channel could serve 50,000 tablets, or it could serve 50 million tablets without any impact on download speed.
A one-time service fee is bundled into the purchase price of the tablet. In return, the tablet receives unlimited downloads for as long as it remains in service. The cost works out to about one US dollar per month for an expected tablet service life of three years, or 75 cents if in service for four years, or 60 cents if in service for five years.
A single 128kbps satellite channel can transmit about 40GB per month. This means that the cost per GB of transmission is effectively as low as 2.5 cents per tablet. A 2G or 3G data plan would likely cost hundreds of times more each month per tablet and be unlikely to offer nearly as much
data capacity.
Yazmi can be used to deliver live training as well as digital training modules to the teacher, so that he or she can learn at home or school and be better prepared and more confident in the classroom.
Yazmi relies on a customised version of Newtec's multicast content distribution software, TelliCast, to maximise satellite utilisation and ensure that students and teachers get only the content directly related to their needs when they need it.
What is TelliCast?
Newtec's TelliCast is a multicast distribution software platform for the reliable distribution of files, directory structures and data streams. It consists of a server package (the official product name of the server is NOP1900 Multicast Software Server), combined with a set of software clients that can be installed on computers or embedded into a variety of receiver devices. For Yazmi, the result is a multicast allowing educational content to be distributed to a large number of recipients with only one single transmission, in a reliable, secured and controlled manner (like defined receiver group features).
FIRST ON THE MARKET
The Odyssey tablet is the only learning consumption device purpose-built for the educational needs of students and teachers in Africa, Asia and the Middle East. This new way of learning aims to provide a uniform quality of education, resulting in sustainable economic growth through a more educated and healthier community.growth through a more educated and healthier community.