Body installs six NAUTIS Desktop Simulators at regional river transport institute in Cairorn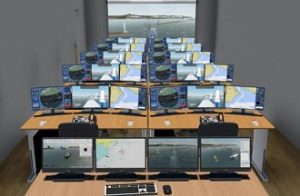 The Egyptian River Transport Authorities (RTA), the receiving party in The Netherlands Initiative for Capacity development in Higher Education project, together with STC Group as delivering party purchased a classroom of NAUTIS Desktop Simulators to enhance the curriculum for its inland waterways training at the Regional Institute for River Transport (RIRT). The six NAUTIS simulators were delivered and installed by VSTEP at the RIRT headquarters in Cairo.
The RTA is the main governmental body in charge of supervision of all transportation on the domestic waterways in Egypt. It provides professional education and training through RIRT for the inland navigation personnel and trainees at its premises in Cairo.
The NAUTIS Desktop Simulators were purchased by the STC Group and allow the RTA to provide certified training in compliance with the latest Egyptian and European requirements and regulations. The STC Group is the education and innovation partner of the RTA, integrating new and advanced training methods at the RTA training facilities. The RIRT's new simulator classroom is currently one of the most innovative inland navigation training facilities in the region.
NAUTIS is a new generation of advanced DNV-certified maritime simulators developed by VSTEP. NAUTIS simulators provide a high quality and innovative solution for training maritime and inland navigation crews in accordance with the latest regulations. NAUTIS includes a full range of simulators, from desktop to full mission bridge.