Satellite operators to expand opportunities at DTH neighbourhood 26 degrees Eastrn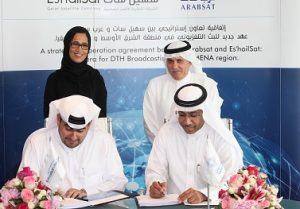 Es'hailSat and Arabsat have announced the signing of a strategic partnership to promote closer co-operation between the two companies and strengthen the reach and penetration of the 26-degree East hotspot for broadcasting.
Under the terms of the agreement, Es'hailSat will acquire the rights to 500MHz of premium Ku-band bandwidth at the hotspot to be used by its second satellite Es'hail 2, which will be designed to provide direct-to-home (DTH) and other telecommunications services.
This will significantly increase Es'hailSat's capacity and strengthen its in-orbit back-up capability when both Es'hail 1 and Es'hail 2 are operational. Furthermore, the arrangement between Es'hailSat and Arabsat will pave the way for enhanced operational flexibility and mutual in-orbit back-up between the two satellite fleets.
The agreement was signed in Doha by Ali Al Kuwari, Es'hailSat's CEO, and Khalid Balkheyour, President and CEO of Arabsat, in the presence of Dr Hessa Al Jaber, Qatar's Minister of Information and Communication Technology, and Fareed Khashoggi, Chairman of the Board of Directors of Arabsat.
Commenting on the agreement, Al Kuwari says: "We are delighted to be able to work with Arabsat on the development of the 26-degree East prime TV broadcasting hotspot. With our first satellite – Es'hail 1 – scheduled for launch on August 29 and our plans for Es'hail 2 now confirmed, we are moving closer to providing the necessary capacity to enable our customers to substantially increase their communications capability, particularly in broadcasting in HD and 3D."
Balkheyour adds: "We are very pleased with this strategic long-term partnership with Es'hailSat, which will provide our customers and viewers with more alternatives and variety of content that will be beneficial for both operators and will make 26 degrees East the premium hotspot of the region."