Maritime antenna provides full 2.4m performance in Ku, C bands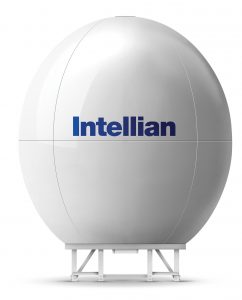 Intellian, a manufacturer of satellite antennae, has introduced the v240M, a 2.4m multiband maritime antenna. Intellian engineers have successfully produced a single antenna with innovative software to achieve a highly efficient system which provides full 2.4m performance in both bands. The v240M is the first VSAT antenna designed for the maritime industry with fully automatic switching between Ku and C band.
Multi-band satellite communications are becoming an increasingly important capability in the commercial offshore, oil and gas and cruise markets. Vessels now operate in a wide geographic area to enable them to maximise vessel returns. This means they face an ongoing need to switch frequency bands as they move operational areas. Until now it would require the crew to physically change antenna components to achieve a band change and in many cases multiple antennae to install.
After considerable development, Intellian has become the first manufacturer to overcome this problem with the introduction of the new Intellian v240M. The system has built-in software and hardware which automatically switches between Ku and C band, providing the end user with seamless operation and no need for technical intervention. The system has been designed to provide easy installation and Intellian's robust manufacture which protects the on-deck equipment from the harsh elements that a global operating vessel will encounter. All Intellian VSAT antenna warranties are now three years for parts and one year for labour.
On deck, the 2.4m antenna is protected in a radome, which contains the Ku-band RF System, C-Band RF System, Antenna Control System and Power Supply Units. An optional air conditioning unit can also be provided which maintains optimal performance when experiencing excessive temperatures. Below deck, the antenna control unit is interfaced with ship information system such as gyro.
The system can be controlled remotely via Intellian's unique App "APTUS" which displays a graphical dashboard that allows logging, recording and fine-tuning of the antenna for optimum performance.