Arianespace's Vega delivers KazEOSat-1 to provide range of civil applications including monitoring natural resourcesrn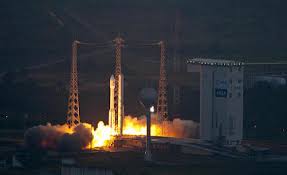 Arianespace is on track for a record launch performance in 2014, following Vega's mission from the Spaceport in French Guiana, which successfully orbited an Earth observation satellite for the Republic of Kazakhstan. The launch took place on April 29.
Lifting off from the SLV launch site, Vega was put through its paces to loft DZZ-HR, renamed "KazEOSat-1" after reaching Sun-synchronous orbit, during a flight lasting 55 minutes.
As an 800kg-class Earth observation spacecraft, KazEOSat-1 is to provide the Republic of Kazakhstan with a complete range of civil applications – including monitoring of natural and agricultural resources, provision of mapping data and support for rescue operations in the event of a natural disaster.
The mission – designated Flight VV03 – marked the third launch of a Vega, which joins Arianespace's medium-lift Soyuz and heavyweight Ariane 5.
Conceived for the orbiting of small- to medium-sized satellites, including institutional and scientific spacecraft, Vega was developed in the framework of a European Space Agency (ESA) programme financed by Italy, France, Germany, Spain, Belgium, the Netherlands, Switzerland and Sweden. The launcher design authority and prime contractor is Italy's ELV – a joint venture company of Avio and the Italian ASI space agency – while Arianespace is responsible for handling the launch operations.
The first Vega launch (designated Flight VV01 in Arianespace's numbering system) was a qualification mission performed in February 2012, carrying the LARES laser relativity satellite, a small ALMASat-1 technology microsatellite demonstrator, and seven CubeSats.  It was followed by Flight VV02 in May 2013, which orbited the Proba-V, VNREDSat-1 and ESTCube-1 satellites.