Merchant ships to receive coverage of tournament via KVH satellite network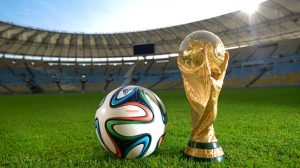 KVH Industries and IMG Media have agreed to distribute video content of the 2014 FIFA World Cup to merchant ships. KVH will deliver coverage of the month-long tournament, which takes place in Brazil this summer, via KVH's satellite network to merchant maritime customers, with the exception of passenger vessels, cruise ships and ferries.
"Knowing how many football fans there are among the world's seafarers, we are thrilled to be able to provide coverage of the world's greatest sporting event," says Mark Woodhead, Managing Director of KVH Media Group. "Life onboard a ship often isolates seafarers from their friends and family and their lives onshore. Imagine being in the middle of the ocean and being able to watch your country play in the 2014 FIFA World Cup. This is the biggest sports occasion of the year and the first time seafarers have had access to this kind of programming."
This year's tournament is taking place in 12 stadiums across Brazil between June 12 and July 13. KVH's coverage of the 2014 FIFA World Cup will include highlights of each of the final round matches and full coverage of the championship match.