The booster is set to remain at the Cape Canaveral Air Force Station as a piece of space history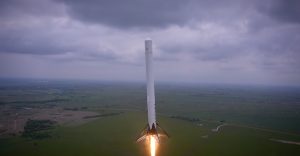 Gulftainer welcomed the first stage of the relaunched Falcon 9 rocket at the Canaveral Cargo Terminal, operated by the company's US arm, GT USA, on 4 April 2017.
Marking the first time that SpaceX has launched and landed a reused booster, the event is being hailed as a breakthrough for the space industry, as it could reduce the cost of space travel in the long run.
The SpaceX Falcon 9 booster launched from the Kennedy Space Centre on 30 March to deliver a commercial communications satellite into orbit and successfully landed on SpaceX's Of Course I Still Love You drone ship about eight minutes later. The booster is set to remain at the Cape Canaveral Air Force Station as a piece of space history.
At least two more launches are expected in Florida in April 2017. SpaceX will attempt to launch another Falcon 9 from the Kennedy Space Centre with a National Reconnaissance Office satellite on 30 April and land the first stage at the Cape Canaveral Air Force Station's Landing Zone 1. In addition, the United Launch Alliance is targeting 18 April for an Atlas V launch to the International Space Station with a Cygnus spacecraft.
GT USA began its operations in 2016 at Port Canaveral with the Blue Stream service, a weekly container cargo service connecting Port Canaveral to Europe, the French West Indies and Central America. Operated by StreamLines, which is part of the Seatrade Group, the Blue Stream Service features five ships with 1,300 TEU capacity and 250 reefer plugs that work on a weekly rotation. It provides refrigerated and dry container service to and from GT USA's Canaveral Cargo Terminal, with a focus on fresh produce and perishable cargo.
The Canaveral Cargo Terminal, the only dedicated container terminal at Port Canaveral, delivered a strong performance in its first year and is well-positioned to achieve its long-term targets.
Gulftainer's operations in the UAE currently include the Khorfakkan Container Terminal (KCT), the Sharjah Container Terminal (SCT) at Port Khalid, and the Sharjah Inland Container Depot (SICD). The company's international presence spans the Middle East, Europe, and the Americas with projects in Umm Qasr in Iraq, Jeddah and Jubail in Saudi Arabia, and Recife in Brazil.
Over the next decade, Gulftainer has earmarked an ambitious growth strategy to triple volumes. The company aims to continue expanding operations through investments in infrastructure to meet the requirements of its customers serving newer, larger ships and stepping up its capacity to handle higher volumes per call.